Blog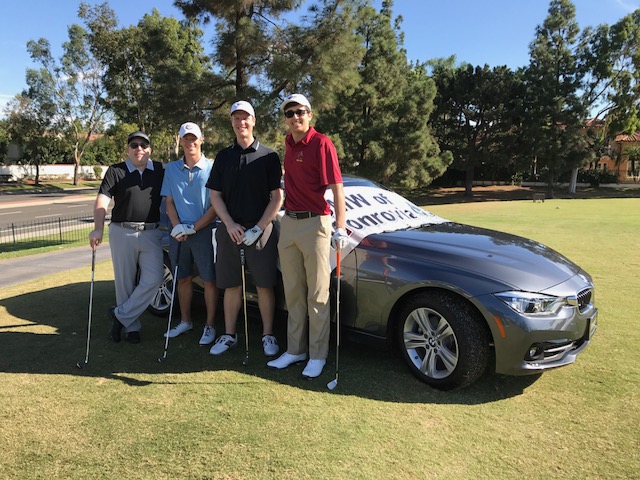 November 6, 2017
Benefit Equity, Inc. 4th Annual Golf Classic Raises $4,400 for the Council on Aging of Southern California
SANTA ANA, Calif., Nov. 3rd 2017 – Local retirement administration firm Benefit Equity, Inc., recently raised $4,400 for Orange County's Council on Aging with its 4th Annual Golf Classic, held on Nov. 3rd 2017 at the Tustin Ranch Golf Club.
Major Sponsors: Nationwide Retirement, Transamerica Retirement Solutions, John Hancock Retirement Services, Heartland Payroll, Hartford Funds, PCS, Safeguard Business Systems and Russell Investments. The event hosted 21 teams totaling 84 participants, mostly top local financial advisors and wealth managers for an enjoyable afternoon of golf and networking for a great cause. The event also included an opportunity drawing and silent auction with 100 percent of the proceeds going to the Council on Aging of Southern California.
The JP Morgan Funds sponsored team of Staci Baker, Kyle Posvistak, Austin Gwilliam & Travis Campbell won the 4th Annual BEI Golf Classic with a low score of -17. The Heartland Payroll Services team of Steve Evans, Harley Bjelland, Brandon DeCapite & Joe Cavallo came in second with a score of -15.
Individual awards for performance were given out for:
Hole-in-one Contest – 330i BMW (No one hit the hole-in-one)
Closest to the pin
Longest drive "Men"
Longest drive "Women"
Putting contest
"We're grateful for the amazing support and friendship of so many trusted financial advisors and strategic business partners in Orange County who came out to be a part of this event benefitting such an important cause," said Michael Gorelick, tournament organizer and President of Benefit Equity, Inc. "We are thrilled this year to have continued to raise money for such a wonderful cause and at the same time build long lasting relationships with the key Advisors in our community.
BEI offers its special thanks to the volunteers from the Council on Aging: Jamie Cansler, Kim _______, Rim Hussin, Cindy Stieger, as well as Courtney Long and Brad Knight from Benefit Equity.
About Benefit Equity, Inc.
Benefit Equity, Inc. is a Southern California-based financial services partner for top financial advisors and successful small and mid-sized business owners who want help in designing custom, worry-free and secure retirement plans with maximum tax benefits. For more information, please visit www.benefitequity.com.